1,2,3,4 Get your garba on and get onto the dance floor~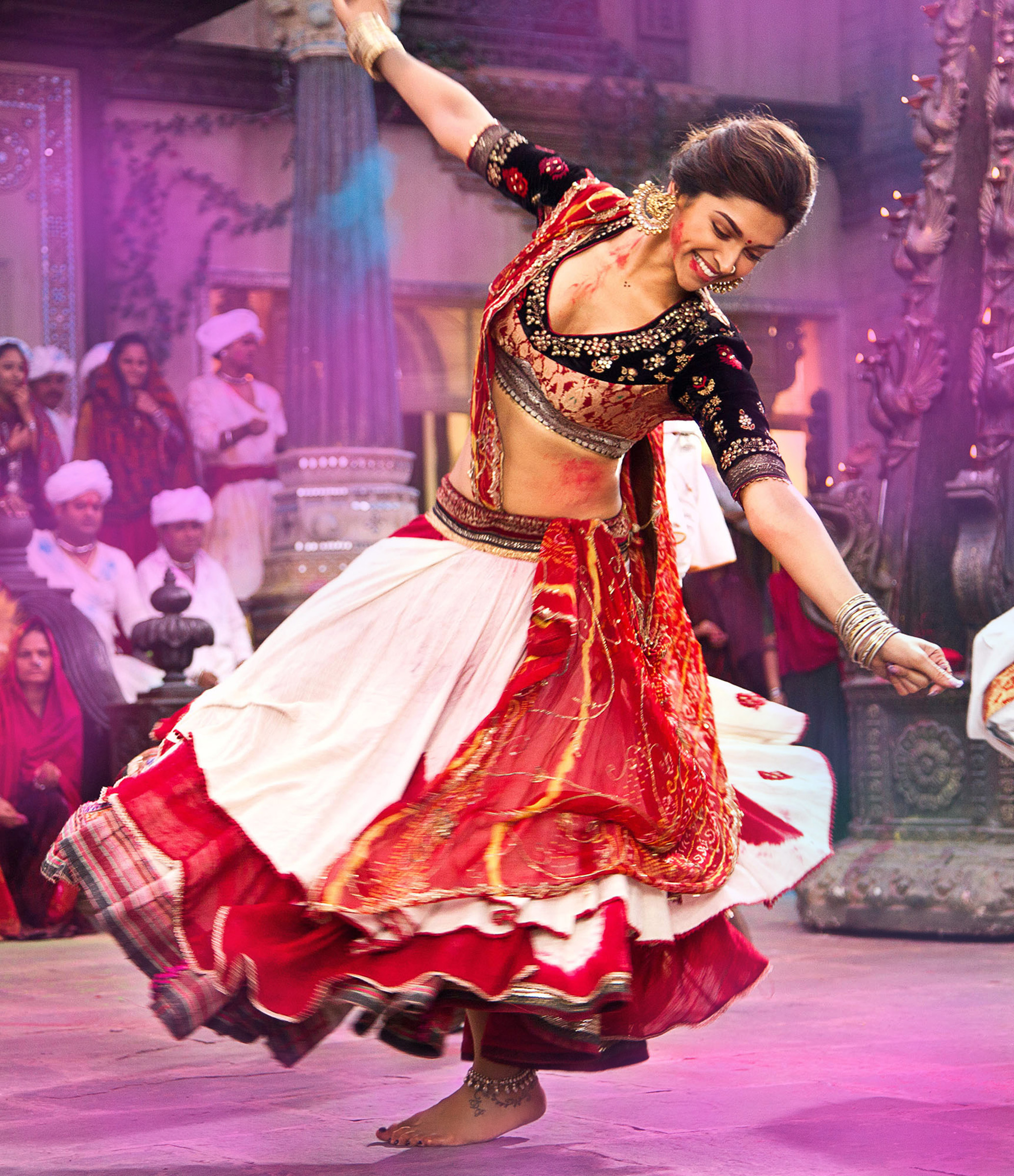 After watching Sanjay Leela Bhansali's 2013 magnum-opus, Ram Leela on Saturday evening, I still find myself unconsciously tapping my feet and shaking my shoulders to the infectious
garba
that dominated the movie's soundtrack. The movie ought to have been released pre-Navratri so everyone could have had a truly disco dandiyaa party.
Set in the heart of kitschy Kutch village (I cannot believe that such a village truly exists!); the Shakespeare-inspired tale of star-crossed lovers is a heady, hearty mix of colour, fashion and music. Deepika Padukone is mesmerising and tantalising as the lovely Leela. Leela is definitely not your average demure, "gaon ki chore" - quite the contrary in fact and she plays the part faultlessly. Her eyes twinkle with mischief when she is happy, and look hopeless and despairing when she is sad. Her reel-to-real life romance with Ranveer Singh playing Ram, is palpable. The both of them share amazing screen chemistry and given that the script has a number of sizzling scenes, this is great for the audience to watch.


Ranveer is sincere for the most part, although I found him hamming it a little too hard in some scenes. Maybe I am a bit old fashioned, but I was not left oohing and aahing at the site of his plastick-y, ultra fit body. Perhaps this physique makes him a lean-mean-woman-machine, but I found his sinewy look a bit too amphibian-esque look to handle. Clearly, Deepika doesn't mind, seeing as it is that Leela makes the first move onto Ram and goes for him, all the way.

As soon as the movie begins, you should know that it is essential to park your logical mind aside and allow your visual senses to take control as the movie continuously moves from the absurd to the fantastical. In true SLB style, all the elements of the movie are extremely rich and opulent. Leela's family home is an ornate palace. Her baloconied room, comes with its private plunge pool, gorgeous foliage and a family of active peacocks. Her fabulous wardrobe is designed by Anju Modi, and it won't be a surprise if this talented designer will become the next Big Thing in the fashion world. Soon, we might see a lot more mirror work blouses combined with colourful leheriyas, replacing the current fad of gotta patti, zardozi and net.
Since I am on the subject, Ram's wardrobe or the lack there of is worth a quick mention. The trendy village stud is dressed in mostly topless and wearing highly-distressed jeans with snazzy sneakers. When he is is wearing his stylised gujju garb of jabla tops with colourful pagdis - he looks pretty alright.

The biggest style statement was made by Supriya Pathak who played the role of a Mother of all mothers - Ba.
Ba who is interestingly draped in rich textiles, combined with heavy ethnic jewelry and voodoo eye makeup. is the crafty controller of the family business and all of their lives. Her shrewd ways are not to be mitigated by her worldly wisdom and maternal pyaar, particularly for the apple of her eye - Leela. All the scenes with Ba in it are highly entertaining especially since her dialogues and timing are so clever.
The rest of the cast, hold their own and both the sisters-in-law played by Richa Chaddha and Barkha Bisht (a popular tv actor, I believe) deliver compelling performances as women who have been wronged.

The first half of the movie is definitely better developed than the second half which drags in and out of different tempos, wavering my attention towards the end. Priyanka Chopra's item song could have entirely been avoided as there were plenty of amazing dance sequences by Deepika.

If you are in the mood for an emotional and visual treat - the movie is a must watch!